Porsche Classic Service in Highland Park IL

Have a classic Porsche you need maintenance or repairs on? Turn to the Porsche experts at Porsche Exchange today. With over 30 years of Porsche maintenance, repair, and restoration experience, our certified and experienced team of Porsche technicians knows exactly what your classic Porsche requires to keep up its performance and value. Whatever your classic Porsche needs, we can do it all, from your routine maintenance to major engine and transmission repairs. Our dealership and service center is located in Highland Park, where we serve all of Chicago, including Winnetka, Lake Forest, and more!
Contact us online, via phone, or visit us in person to learn more about all of the services we offer today. When it comes to your classic Porsche, you can drive confidently, knowing it's in good hands with our professionally trained, certified team of Porsche experts. Our certified technicians undergo rigorous training and are highly knowledgeable of all Porsche models, new and classic.
---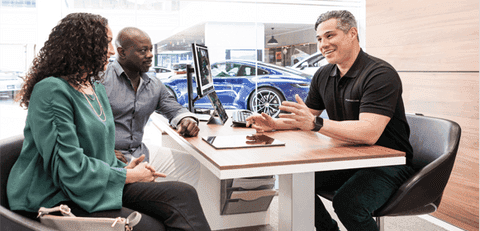 Classic Service Recommendations
Over 70% of all Porsches ever made are still on the road today. That's because Porsches not only feature timeless looks but are also engineered to perform above and beyond the average consumer car. The best way to keep your classic Porsche running in peak condition is with routine maintenance and certified repairs from experts who know best. Classic Porsche service recommendations include:
Annual oil changes with proper oil for your model year
Routine inspections and tire rotations
Tune-up and brake pad inspection every two years
New tires and battery every four to five years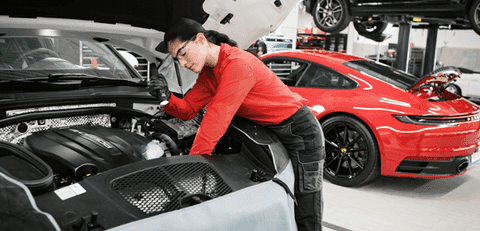 Why Service at Porsche Exchange?
At Porsche Exchange, we are Porsche experts because Porsche is the only brand that we work with. Day in and day out, our service team is either servicing Porsche models or training. With a cutting-edge brand like Porsche, there is always more to learn, and when you need service on such a vehicle, you should only trust a team that is willing to dedicate themselves to the brand as we have. We understand the intricacies of your car and we know how to give it the respect it deserves. Additional reasons to choose Porsche Exchange for your next classic service include:
We only use the right tools and equipment
We follow proper manufacturer's procedures every time
Offer competitive pricing, service packages, service coupons, and timely service
We have luxurious facilities with a barista, fresh pastries, and comfortable seating
Offer shuttle service that can get you where you need to go
Offer complimentary Porsche valet service in Highland Park